Autumn 2017
In This Issue:
Maintain Don't Gain Begins November 13

Aromatherapy Blends for Fall

10 Morning Habits to Start the Day

Master the Side Plank for a Stronger Core

Autumn Recipe: How to Roast Butternut Squash

Seven Tips for Healthy Workday Nutrition
The average American gains 1-5 pounds over the holiday season and usually does not lose it. Over time it adds up! To encourage and support weight management and healthy habits over the holiday season, The UC San Diego Health Employee Wellness Program offers an 8-week Maintain Don't Gain Challenge from
November 13, 2017 – January 12, 2018
. This Challenge is sponsored by Kaiser Permanente and provides participants with tools, motivation and education to maintain weight throughout the holiday season. During the first and last weeks of the challenge there are optional weigh-ins and weigh-outs. Weekly emails with tips, resources, and challenges will be sent to all participants.
Participants will receive incentives for participating including an opportunity to win a mountain bike!
Join at any time during the program by emailing Brenna Joyce, bjoyce@ucsd.edu.
Start the Day Right: 10 Morning Habits
Thanks to

The Chopra Center

, here are 10 ways to get your day going in a positive manner. When we start the day at ease, it sets the tone for the rest of the day (and ditto if we start with chaos!). Below are 10 habits to practice to improve the way your mind and body feel throughout the day. Try implementing just one - and one that looks the easiest to implement - and note how your body feels throughout the day. When you are ready, incorporate one more...
Hit the Hold Button Before You Go Online: Reading emails and texts first thing in the morning can cause a sense of stress and reactivity. Try to stay in the present, detached from technology, for the first hour of your day and note how you feel.
Drink Up: Your body has gone for hours without hydrating. For a refreshing and healthy start to your day, drink at least one glass of water (try it warm with a twist of lemon for flavor and a hit of Vitamin C) to help flush out toxins accumulated overnight and to set yourself up to continue hydrating throughout the day.
Be Positive and Thankful: A simple smile before you jump out of bed can immediately create positivity in the body - which then causes a chain reaction of feel-good dopamine, seratonin and endorphin release to help elevate the mood and lower heart rate. Go even further into this reaction by thinking about or writing 3-5 things for which you are grateful in this moment, no matter how simple they may be.
Make Your Bed!: While it may seem like one extra task to complete in a busy morning, this simple act can give you a sense of accomplishment at the start of the day and preps the mind to achieve more as the day continues.
Practice Mindfulness: Incorporating any type of mindfulness at the start of the day can help to keep you feeling calm and grounded, ultimately affecting how you react to anything that comes up during the day. This is also a perfect time to set your intention of thoughts or actions for the day.
Get Moving: Even a short bout of movement (think 10 minutes of yoga, a quick walk with your dog or five minutes of core exercises) will energize your body and keep your mind sharp. The body will warm up and feel good while mental chatter quiets.
Dress for Success: Being "put together" builds confidence. Perhaps spend a few minutes the night before to the plan what you will wear to make morning prep smoother.
Eat a Healthy Breakfast: You will have more energy for the day ahead and increase your ability to focus and concentrate.
Make a List: A "To-Do" list will keep your focus on priorities as well as leave you with less items to remember since they are all noted. Try to keep the list from being overwhelming by making five your maximum number of "to-dos" for the day.
Get Enough Sleep: You will be more likely to create healthy morning habits with a good night of rest behind you. Scroll down to the March 2016 newsletter for healthy sleep habits.
Seven Simple Healthy Eating Habits for the Busy Workday
As we gear up for the holiday season we may encounter numerous opportunities to consume (and over-consume) seasonal treats. The more you can set yourself up to stay on track with nutrition, the better you will feel and maintain body weight (***see Maintain Don't Gain Program, above!) throughout the season. It doesn't mean you can't experience holiday treats...but if you prioritize healthy eating when you are in control of your choices you might be so glad you did! Warning...side effects may include more energy, focus and productivity and decreased illness. Here are seven ideas to get you going. How about trying just one of these ideas suggested by

Amy Krasner at The Chopra Center

- especially one that is most effortless for you? If it is doable and you are eager for more, try another. Better is better; if it is simple rather than overwhelming, it is a change you can sustain. Win!
Eat Breakfast Before Work: Breakfast is critical to have a productive workday. If we skip breakfast, we are led into low energy, foggy brain and cravings for the most readily available source of energy: sugar. Be organized with a prepared-in-advance breakfast such as overnight oats, egg and veggie muffins, or a smoothie.
Keep Healthy Snacks at Your Desk: If you are overly hungry by lunch or when you leave your desk, chances are higher than you will overeat at lunch or when you get home from work. It also means you may not have had enough food at breakfast or lunch. Because many of the vending machine options at work are not the healthiest of foods, arm yourself with snacks such as individual packs of almonds (available at Trader Joe's), bag of apples, Mary's Gone Crackers or a low sugar protein bar (eg., Bhu Bar).
Leave Your Desk at Lunch: If you are working through your lunch break to get a few more items checked off your list, it's time to try stepping away from your work station! You will digest your food better and may feel more refreshed when you return to work. Experiment and see how you feel when you take the time to shut down work while you eat.
Keep a Water Bottle at Your Desk: When there is a water bottle on your desk you are reminded to continue hydrating throughout your day. You could even set an appointment on your calendar to drink water to keep yourself on track.
Find Healthy Eating Options When Dining Out: If you go to a restaurant for a meal, search for healthy eating establishments close to work. You could also find opportunities to make healthy upgrades at your usual haunts. For example, if your meal comes with French fries, see if you can replaces the fries with steamed vegetables or a side salad.
Cook Several Times Per Week or Use Meal Delivery: Likely, the last thing on our mind after a hectic day is to decide what to cook for dinner. How about using 15-20 minutes on a day off to plan for the week: plan two or three meals that you will make and write out the ingredients you will need. When you have a plan you will be more likely to carry out the task. However, if you know the planning and shopping is not doable - but you would cook if the ingredients were available - looking into a local food delivery service may be a better fit.
Bring Your Dinner Leftovers for Lunch: If you commit to cooking a few times per week, you can bring leftovers to work for lunch. Always cook a large portion so that you have leftovers available to bring. Pack the portion you will not use at dinner so it is already prepped to go for the next day. Or, mix it up by using the protein portion of your meal (eg., chicken) and putting it on top of a salad with fresh veggies.
Summer 2017
In This Issue:
10 Summer Workout Tips

Core Exercise: The Tension Plank

Five Ways to Combat the Impact of Stress on Digestion

Cool Off with Five Habits to Decrease Anxiety

Recipe of the Summer: Cucumber-Avocado Gazpacho

Three Summer Activities to Keep You Moving
Summer is officially in full swing and it's time to take advantage of the glorious days, warm evenings and extra daylight. This issue is dedicated to decreasing stress so that you can savor the positive aspects of the season in addition to feeling better in those moments. Did you know that stress can change the way your body reacts to food? Check out the article about how to improve digestion through stress reduction methods. With decreased stress you might have extra energy to devote to movement...we're keeping you moving safely with summer exercise tips and ideas.
Finish off your day by staying cool as a cucumber in the kitchen with a quick and simple gazpacho recipe.
10 Summer Workout Tips
With longer days and beautiful weather, the summer is a perfect time to get outside to move. However, when temperatures rise, it is important to be informed and smart about outdoor exercise. Here are tips, suggested by

Active.com

to keep you cool and exercising safely:
Drink Before You are Thirsty: Once you are thirsty your body is already depleted of hydration. When temperatures rise, water is needed to help keep the body's core temperature in a safe range. Additionally, if your body is low on fluids, you may feel tired and not perform as well. Drink water prior to your workout and keep a bottle in hand during: aim to drink water at least every 15-20 minutes of an exercise session.
Apply Sunscreen: Yes, even if there are clouds because it could get sunny later and even the harmful UV rays can cut through the clouds! Try a sweat-proof 30+ formula, applied every two hours for moderate exercise or every 45-60 minutes for intense.
Check the Weather:
Since summer temperatures may bring about increased humidity check the "feels like" temperature to be sure you know what you will encounter. While the temperature may not read high the humidity factor increases it greatly. This will impact your timing and type of exercise you choose to do.
Time it Right: Since you know the weather report, on those warmer days try to get outside earlier (generally hottest and sunniest from 10am-3pm) or later in the day.
Gradually Work at Altitude: When heading to the mountains keep in mind that trail is a much different animal than the street or treadmill. Keep your pace slower due to both uneven terrain and the altitude. At 5,000 feet and above less oxygen is available creating additional challenge to the cardiovascular system...especially living at sea level!
Pick the Right Sportswear: Lightweight polyester microfibers with quick-dry, wicking capabilities built in will keep you coolest. Cotton is breathable if you don't sweat...but once you do it will trap in heat.
Leave Your Best Friend at Home: While bringing the dog on a jog or walk can be great company keep in might that higher temperatures and humidity can be harmful for dogs. Due to their fur and already high body temperature, dogs feel the heat even more and their cooling mechanism - panting - is less effective the higher the humidity.
Consider Using Electrolytes: When exercising in increased temperatures, sweat loss - and thus electrolyte loss - will increase. It may be worthwhile to sip on electrolytes if exercising longer than 45 minutes and at a higher intensity. Electrolytes can be high in sugar so opt for lower sugar solutions including coconut water,

Ultima or Nuun

brand options.
Be Gentle on Yourself: When temps and humidity are higher keep in mind that it might not be the time to set a PR.
Don't Overdo It: If you are new do exercise or exercising in conditions to which your body is not yet adjusted, give yourself time to gradually begin a fitness program in order to avoid burnout or injury. Listen to what your body is saying...if it feels exhausted beyond simply being tired from exercise - for example, nausea, feeling faint or dizzy - stop.
Core Exercise: The Tension Plank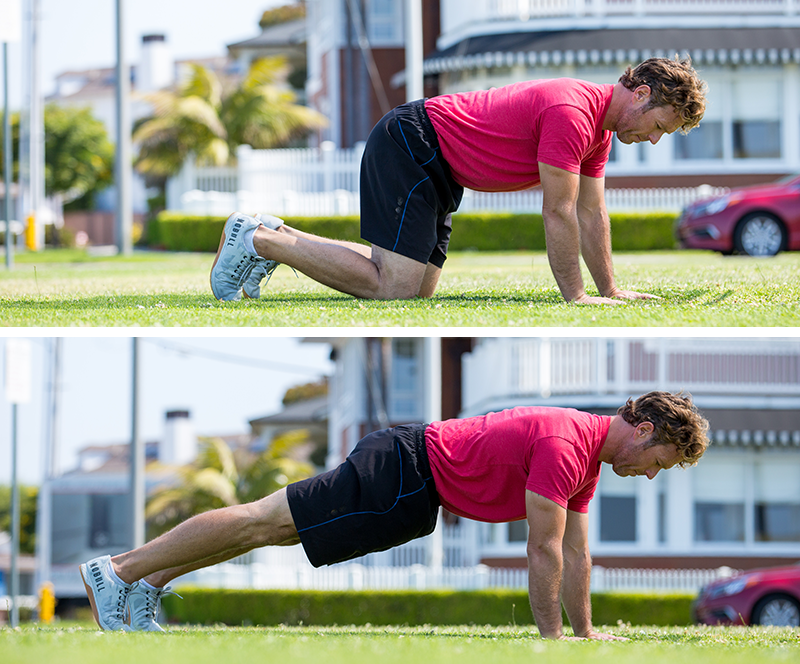 Begin in an all-fours position (hands and knees) on the floor with shoulders directly over hands

Keeping shoulders over hands and feet in place, bring knees off floor into a push-up position

From here, create and hold tension from toes to top of head. Practice performing the following simultaneously:

Imagine you are aggressively trying to pull hands to toes and maintain this tension

Tense calf and hamstrings (back of thigh) muscles simultaneously

Imagine quad (top of thigh) muscles tightening and being pulled toward your waist

Tense abdominal muscles as if you are bracing to be punched in the stomach

Engage lat muscles (back muscles that begin at underarms) to pull shoulders down away from ears

Push palms into floor to separate the shoulder blades as much as possible

Create tension through the triceps (back of upper arms) to keep arms straight

Actively grip the floor with the hands

Create "double chin" by retracting (not bending) the neck

Hold for 15-20 seconds while keeping breath controlled through the abdomen
March/April
2017
In This Issue:
Spring Cleaning Tips

Five Exercises for a Healthy Back

Nutrition: The Dirty Dozen and Clean 15

Recipe of the Month: Cauliflower "Couscous" with Black Lentils and Heirloom Greens

Upcoming Event: UC Walks 2017

Out in the Community: Get Active!
January/February
2017
In This Issue:
Five Habits to Adopt in the New Year

How to Stick to Your Goals

FREE Classes for ALL UCSD Health Employees: New Schedule!

Recipe of the Month: Buffalo Chili
How to Stick to Your Goals
Now that you have selected your goals, here are a few ideas to adhere to them! Often, setting a goal involves creating a new habit. Habits can be a challenge to create. How can you make habits stick? Thanks to Whole Foods Market and The Chopra Center, there are many tricks to try. Find out what works for you!
Write Your Goal...and a Plan: Not only will writing down your goal leave you more apt to accomplish it but writing a weekly plan will take you one step farther. For example, if you would like to cook more meals at home, take some time on Sunday to plan your menu. It can be simple, but putting a goal or plan into writing will help you to stick with it and stay organized.
Find an Accountability Partner: Tell a friend or loved one your goal and give them an update each week. When you have someone to answer to, other than yourself, you are more likely to stay focused.
Recruit: Perhaps your accountability partner would like to achieve the same goal. A group dynamic is motivating and keeps you even more accountable because someone else is depending on you to stay on track. Plus, you can bounce ideas off each other to keep the goal fun.
Pairing: Take an old habit and combine it with a new one. For example, if you want to floss your teeth every day, you could store the dental floss in such a way that you must pick it up in order to get to your toothbrush. That way, it's already out when you brush your teeth so you might as well floss!
Moderation: Doing a little is easier than doing a lot. If you want to exercise five days per week, commit to two. Get that consistent before doing more. It might feel too easy but that is the idea!
Abstain: This might be one of the harder ways to go about achieving a goal but it works well for some. If your goal is to cut out a habit, this involves going all out by completely abstaining from the behavior.
Scheduling: Set your goal as an appointment in your calendar with a reminder prior to the appointment. When you have committed officially with your schedule, you are more likely to stick to your goal because nothing else can get in the way.
Make it Easy: Think about the roadblocks you might have with a goal and brainstorm ways to get around them to make it simpler. For example, if you would like to start taking an exercise class, where is the easiest place to go? If you want to go after work, perhaps find a studio or gym that is close to work.
Better is Better: Changing habits is a marathon, not a sprint. You may have some setbacks but any positive forward movement is positive. If you back peddle a little, get back on the bike and continue the ride!
Resolve to Exercise This Year? Try Our FREE Classes!
Winter Recipe: Buffalo Chili
Yes, you read that correctly! Buffalo (aka bison) meat can be an interesting addition to your protein repertoire. What makes it so nutritious? Buffalo :
Contains less saturated fat than other meats

Is typically grown free range and is grass-fed (check the label to confirm) and thus contains omega-3 fatty acids

Provides more iron than beef

Cannot be injected with hormones and therefore contains no bovine growth hormones
The recipe below, courtesy of Whole Foods Market, can be altered to your protein preference: you can switch out the buffalo for ground turkey, chunks of chicken or diced tempeh. Short on time? Add the ingredients to a crock pot before work and come home to a perfectly cooked meal!
Ingredients:
1/2 pound ground buffalo

1 large onion, finely chopped

1 large carrot, finely chopped

1/2 head cauliflower, stemmed and cut into small florets

1 medium green bell pepper, finely chopped

3 large garlic cloves, finely chopped

2 teaspoons ground cumin

2 tablespoons no-salt added chili powder

1 tablespoon apple cider vinegar

1 (15-ounce) can no-salt-added diced tomatoes

1 (28-ounce) can no-salt-added crushed tomatoes

1 (15-ounce) can no-salt-added kidney beans, drained and rinsed

1/2 cup loosely packed cilantro leaves, chopped
November/December
2016
In This Issue:
Maintain Don't Gain During the Holidays
7 Habits for a Happy, Healthy Holiday Season
Holiday Recipe Makeovers
How to Make the Holidays Active
The average American gains 1-5 pounds over the holiday season and usually does not lose it. Over time, it can add up! To encourage and support weight management and healthy habits over the holiday season, UC San Diego Health Employee Benefits offers a 7-week Maintain Don't Gain Challenge from
November 14, 2016 – January 7, 2017
. This Challenge is sponsored by Kaiser Permanente and provides participants with tools, motivation and education to maintain weight throughout the holiday season. During the first and last weeks of the challenge there are weigh-ins and weigh-outs. Weekly emails with tips, resources, and challenges will be sent to all participants.
Participants will receive incentives for participating including a 30-day Build-a-Meal booklet and an opportunity to win a mountain bike!
Join at any time during the program by emailing Brenna Joyce, bjoyce@ucsd.edu.
7 Habits for a Happy, Healthy Holiday Season
Do thoughts of the holidays bring a sense of stress? This year, how about trying the following seven suggestions to care for yourself, decrease stress levels and enjoy the holiday season. Credit to The Chopra Center for their ideas!
Enjoy Sparingly. While it may be unrealistic to refrain from holiday treats, it is possible to limit them. Try taking a small portion and immediately follow up with a non-caloric beverage such as water, sparkling water or hot herbal tea. This will fill the stomach and decrease the urge to go back for seconds.
Fit in Regular Exercise: It doesn't need to be endless hours at the gym but simply finding time to get in as much movement as possible can keep your body on track over the holiday season. Try one of the following:

Schedule a fitness class so that you are committed to a time and specific activity
Set a meeting time with a friend to meet at the gym, go for a walk or jog
Take the family to walk around at December Nights at Balboa Park

Center Yourself: Try taking 5-30 minutes at the beginning, middle or end of your day to focus on your breath and reconnect with your body. When the mind gets overwhelmed even a two-minute time out can make a difference. The UCSD Health Center for Mindfulness offers a variety of free guided mindfulness meditations.
Do Something Special for Yourself: When you are spread thin giving to others during the holiday season, take some time to recharge with a treat for yourself. You could...

Take a break in the middle of errands to sit down and enjoy a hot cup of herbal tea
Get a massage or pedicure
Meet up with a friend you haven't seen in a while
Turn off your phone and computer for an entire afternoon

Start a Gift Exchange: If the thought of purchasing gifts for all of your friends and family is overwhelming and financially straining, try gift exchanges among the groups. You could even invent themes and monetary caps to keep gift giving fun and lower-stress. Interesting ideas include:

Museum passes
Fitness classes
Concert tickets
Easy-to-care-for plans such as succulents
Cooking classes

Keep it Light: Even though holidays are times of celebration, they can become times of disappointment or sadness when expectations aren't met or they are not as perfect as planned. If you experience such feelings, acknowledge them and see if you can lighten the burden:

Watch a funny movie
Spend time with a positive friend or family member
Go to a comedy show or watch your favorite comedian
Start a chain of joke telling with friends

Time to Reflect: Take time to reflect about the past year by journaling or with a close friend or family member. Consider what you have accomplished, interesting experiences, lessons learned, people who have influenced you and how to use all of your experiences to continue to move forward.
How about doing #1, above (Enjoy Sparingly) with the following recipe? While it is a healthier version of truffles, the strong flavor can help to satisfy a sweet tooth. Enjoy with a cup of hot peppermint tea during a time out from the demands of the holiday season.
Here are a few smart ways to fit in fitness. Every step counts on your mission to manage your weight!
October
2016
In This Issue:
UC San Diego Health Five-Week Employee Wellness Course
Desk Stretch
Eight Ways to Reset Your Mind
Recipe of the Month
Active Autumn Events
Are you ready to make healthy lifestyle changes? We have just the program and...we come to you! Five, 45-minute learn-at-lunch weekly meetings are led by a certified health professional to educate participants in wellness topics that facilitate small changes to improve one's lifestyle. Topics include workplace movement, stress reduction and nutrition. Available to all departments upon request to Brenna Joyce, UC San Diego Health Employee Wellness Coordinator: bjoyce@ucsd.edu.
Desk Stretch: Lengthen the Calves
The calf is comprised of two muscles, the gastrocnemius and soleus, which merge with connective tissue at the base of the calf. This tissue connects to the Achilles tendon at the bottom of the leg. The calf muscles aid to point the foot and ankle joints as well as flex (bend) the knee joint. When the calf muscles are chronically tight, the ability to move the ankle decreases. What makes the calves tight? Heeled shoes, including running shoes, sitting often and failure to stretch. In order to preserve range of motion in the ankle and feet (and thus movement efficiency), try the following calf stretch:
Stand at a wall or behind a chair
Place hands on wall or chair and step left foot forward
Look at both feet to make sure they each face directly forward and heels on ground
Gently bend the left knee (your left knee should be above the left ankle)
Keep the right leg straight with the right heel pushing into the ground; make sure the right foot faces forward during the stretch
Hold 30 seconds and repeat on the opposite side
Take a Nature Walk: Nature helps to get away from technological distractions such as computers, phones and television. Your attention can focus on surroundings of vibrant colors, different sounds, plants and animal life. Take note the sensations your body feels before, during and after the hike and if they change along the way. Find new places to explore in Outdoor Guides.
Gardening: You can simply go into your backyard or patio to get in touch with nature! The act of getting your hands in the dirt and touching the plants is an act of mindfulness that will calm the mind. Take it deeper into the present and note the sensations of touching the dirt, different colors of the plants, how your stress levels feel and the sounds of digging into the dirt or the crunching of leaves.
Get Out Your Coloring Book! Yes, just like you did when you were a child! You get to be creative, keep focus (read: mindful) by staying within the lines and relieve stress. There are coloring books geared toward adults, too!
Dance: Try dancing to your favorite music at home or take a class. Let your body feel the beat and move as it wants. If you take a class, your mind will need to be completely focused on what you are doing...giving you little opportunity to think about anything else.
Mindful Exercise: Any type of exercise can be mindful. It just requires one to be present and focused on what is happening in the body: sensations, awareness of movement, the breath and attention to form. If you take a class such as yoga, tai chi or Pilates, the experience may be enhanced with the instructor guiding you through the movements to keep you in good form and present in the moment so your thoughts have little opportunity to wander.
Yoga: One form of mindful exercise, yoga uses the body as a focus which enables the mind to be calm. Try these five poses to do in the morning, from MindBodyGreen.
Play an Instrument: Instruments are another creative outlet that can bring mindfulness to your day. You don't need to be experienced and some instruments including the drum, gong and chimes allow you to play away! Focusing on what you will do and how you will play allows the mind to stay present and focused on the activity.
Watch a Sunset: Another encounter with nature, just seeing the sunset can make all of one's cares and worries leave the mind. Look at the colors, where light reflects and the sensations you feel in your body as a result.
Not only is this salad addictively delicious, it is also full of nutrients. The cabbage and carrots provide antioxidants and cancer-fighting properties. The seeds contain beneficial fats. The ginger in the dressing is an anti-inflammatory and may even boost immunity. The colors in the salad are reminiscent of Halloween: purple, orange, green and black!
Attention: Candy corn may be harmful to your health!
Summer 2016
In This Issue:
New Free On-Site Fitness Classes
Desk Stretch
Five Ways to Move During Your Workday
Recipe of the Month
Get Active in San Diego
Place hands of back of chair for support and bring left leg forward, foot flat on ground, and right heel off ground
"Tuck" pelvis under so that shoulders are directly over hips to feel a stretch down the front of the right leg
Hold 15-30 seconds
Repeat on opposite side with right leg forward
Perform this stretch 3-5 times during your workday
Check out this video for a demo:
Get Moving During Your Day: Five Ideas to Anti-Desk
Have you heard about the movement to sit less and move more? The negative effects of sitting are experienced by many (tight hip flexors, anyone?) and you may be one of them. Excessive sitting impacts the body's metabolic system and harms circulation. It also causes decreased breathing efficiency and aches and pains from being in fixed positions that are not natural for the body. The American Medical Association (AMA) agrees that sitting for extended periods of time can be bad for personal health. Their policy recommends organizations offer sitting alternatives, including standing desks. One study demonstrated 45% increased productivity in standing desk users compared to their seated counterparts (Garrett, et al., 2016). Standing is like walking: it increases energy, burns extra calories, strengthens muscles and posture, increases blood flow and ramps up metabolism. Sitting, on the other hand, will tighten hips and limit range of motion. With lack of use, gluteal muscles can weaken affecting stability and power when walking and jumping. Jutting the head forward while at a computer leads to cervical vertebrae strains causing neck, shoulder and back pain. To combat the effects of sitting, try these simple ways to incorporate movement during the workday:
Take scheduled breaks AWAY from the desk (and take your breaks!)
Stand up and pace while on the phone
Walk to a co-worker's desk to ask a question, instead of emailing or calling
Use a standing desk for portions of your day
Stand up at least once per hour
Summer Recipe: Keeping it Cool!
Summer heat might decrease the desire to cook - or eat - a hot meal. To keep it cool but still pack in nutrition, salads can be a perfect solution. This cucumber, avocado and feta salad takes just a few minutes and has only five ingredients. It's simplicity in a bowl! The salad can be a side dish or a meal and provides the following:
Cucumbers hydrate, provide skin-friendly minerals and flush out toxins
Avocados contain heart-healthy monounsaturated fats, fiber and potassium
Dill offers vitamin C and manganese
Find the recipe on Two Peas and Their Pod here:
http://www.twopeasandtheirpod.com/cucumber-avocado-and-feta-salad/. Bon appetit!
Out and About: Fitness Fun
Why not get out and enjoy the summer sunshine while getting fit? Get a group of co-workers, bring the family or participate on your own in a fitness event such as The Color Run at the Waterfront Park. You can find out details and register for the event here:
http://thecolorrun.com/locations/san-diego-ca/?var=7952&cmp=18N-PB1101-S7-T5-128182-7089269&1=le-576067
.
April 2016
In This Issue:
Desk Stretch
Five Fixes for Nutrition Challenges
UC Walks
New FREE Fitness Class
Weight Watchers Series
UC Wellness Lecture Series
Get Active in San Diego
Desk Stretch: Ode to the Hamstrings!
The hamstrings are composed of three large muscles that run along the back of the thigh. They serve to bend the knees and move the hips backward. When seated in a chair the hamstrings shorten and become inactive. This can further lead to lower back pain because tight hamstrings impede proper hip motion. Knowing this, take one minute out of your day to stretch the hamstrings (and you don't even need to get out of your chair!)
Hamstrings Stretch Video
Solved! Fixes for Five Common Nutritional Challenges
Many of us promised to eat better in the new year...and it started off well! But now, perhaps some familiar habits re-established themselves and the consistency of eating well became difficult. Here are some common nutritional predicaments and ideas to keep you on track. The original article is credited to the
Whole Foods Market blog
.
1. Breakfast...What's That?
Skipping breakfast may set us up to eat
more
later in the day. Sure, it can be an added task to complete in the morning but there are plenty of healthy grab and go options to start your day right (it might even help if #3 is you!). A few ideas:
Apple or banana spread with almond butter (add a sprinkle of cinnamon for extra antioxidants)
Cottage cheese with blueberries and pistachios (or other nuts/seeds)
Two hard-boiled eggs and a piece of fruit
Greek yogurt with strawberries
Whole grain bread spread with almond or peanut butter and topped with banana slices
2. Not Eating Enough Fruits and Vegetables
Sneaking vegetables and fruits into your meals throughout the day can help to ensure you get enough (2-1/2 cups of veggies and 2 cups fruit). Try a piece of fruit at breakfast, adding vegetables to an egg scramble, snacking on fresh vegetables and hummus or adding a variety of colorful vegetables to a salad.
3. Late Night Snacking
Exploring the root of late night eating can be a good start...is it boredom or true hunger? Try keeping a food journal to find out the cause. If it is boredom, come up with several activities that you enjoy (eg, reading a book, taking a hot bath, calling a friend) to keep on track and brush teeth right after dinner. If you are truly hungry, revisit what you ate for dinner. It may be time to make meal changes to keep you feeling full longer with fiber-rich foods and high quality protein. If you do need a snack be prepared with lower-calorie, minimal sugar options.
4. Lack of Sleep
Too little sleep can cause hunger cues despite having had enough calories. Take a look at our March newsletter for tips on sleep health!
5. Failure to Plan...
...equals plan to fail! Create a menu at the beginning of the week and shop for necessary ingredients. Healthful meals don't need to be complicated or take endless amounts of time to prepare.
Eating Well
offers quick, five or less ingredient recipes.
UC Walks: May 18
Come out and play! UC Walks is a UC-wide event on Wednesday, May 18. No matter where you work you have an option. You can visit our blog for
Hillcrest
registration;
La Jolla
is listed on Blink. Not only are there two opportunities for a group walk but there is also the full wellness package: outfit yourself in a free t-shirt, grab a snack from the UCSD Registered Dietitian Interns and UCSD Weight Management Program, get your benefits questions answered from our Benefits office representative, be present with the UCSD Mindfulness Center, find out your body fat percentage and wind down with a chair massage. Everything at the event is FREE!!! We hope to meet you there!
New and FREE: Yoga in Hillcrest!
Please join us for 5pm Yoga in the Camelot Room in Hillcrest. This and all of our free class offerings are located
here
.
Weight Watchers: New Series Begins in May!!
Are you ready to make nutritional changes in order to lose weight? Weight Watchers is starting a new 17-week series on May 5. UCSD Health employees receive 50% off the class fee! Weekly meetings are on the La Jolla campus in ECOB. For more details have a look at the
Weight Watchers
section of our blog.
Interested in starting a Weight Watchers series in Hillcrest? Please email Brenna Joyce, bjoyce@ucsd.edu. If we get enough interest we can start a series at an additional location!
UC Wellness Lecture Series
The next lecture in the UCSD Wellness Lecture Series is Mindfulness in the Workplace taking place on May 19 on the La Jolla campus. This is a lunchtime lecture...head back to work with a new frame of mind!
Get Active in San Diego: Coast to Crest 5K and 5-Miler
Looking to get active in the community? The inaugural Coast to Crest 5K and 5.3 mile races will take place on Sunday, May 1 at the San Dieguito River Park. A fast and flat trail course that is sure to be a fun event!
​
March 2016
In This Issue:
Recipe of the Month
Desk Stretch
Seven Steps to Better Sleep
UC Wellness Lecture Series
FREE Fitness Classes
Sleep is essential to our health and well-being. Quality sleep can help to promote positive energy levels, aid in increased productivity and protect us from acute and chronic health problems. This edition of the UCSD Health Employee Wellness newsletter is dedicated to practices that may help your sleep! Please try the stretch, recipe or any of the sleep suggestions and post a comment! We would love to read about your experience!